Albion meets industry standards for quality and sanitation in participation with the following affiliations.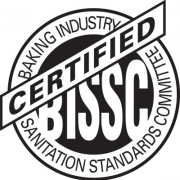 Food Service
With Baking Industry Sanitation Standards Committee (BISSC) certification and NSF International listing, Albion is a proven supplier for those industries requiring the most stringent of sanitation standards. Albion's dedication to certification and meeting industry requirements bring confidence with every product.
Association Participation
Albion provides leadership by participating in the following associations:
RoHS Compliant
RoHS Regulations state that from July 1, 2006 a producer may not put new electrical and/or electronic equipment containing lead, mercury, cadmium, hexavalent chromium, polybrominated biphenyls (PBB) and polybrominated diphenyl ether (PBDE), in amounts exceeding the set maximum concentration values, on the market in the European Union.
We at Albion Industries, Inc. do hereby certify our products that are standard zinc plated and powder coated do comply with the RoHS regulations set forth by the European Union.