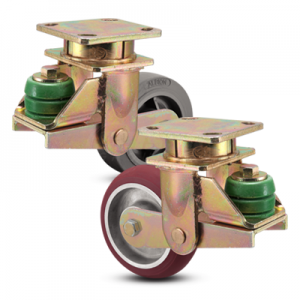 Series: 141 Series
Albion 141 Series casters feature a polyurethane spring, and are designed with features tailored to meet the varied needs of the aviation ground support equipment and automotive industries. 141 Series casters are equally at home in other extremely abusive and rugged applications. The durable and corrosion-resistant polyurethane spring helps protect cargo from unwanted vibration and damaging shocks. The solid spring material has no spring coil where debris can jam the spring action.
Yellow Zinc Dichromate is the attractive, standard finish and provides better corrosion resistance than normal zinc plating. 141 Series are quiet rolling, rugged kingpinless casters. Kingpinless casters eliminate kingpin failure – the leading cause of caster failure.
Kingpinless
Premium Quality
Spring Loaded
Towable
Aircraft Tripod Jacks
Automotive
Automotive Seat Racks
Computer Equipment
Ground Support Equipment
Heavy Duty Toolboxes
Medical Equipment
Shock-Sensitive Applications
Tilt Carts
CAD
Interact and Download Native CAD models below. Rotate, zoom in/out, and see critical dimensions by utilizing your mouse.