What is the kingpin?
The kingpin which is typically a bolt or a rivet and is the key component which holds the parts of a swivel caster together. The kingpin is the central point at which the caster is attached to the top plate and swivels.
Why should I care about the kingpins?
Given the construction of swivel casters and the joining element that the kingpin plays in the assembly, the kingpin absorbs the brunt of the force transmitted through the caster. Over time this component can strain and stretch. This can lead to deformation of the kingpin lowering performance and/or even a failure of the kingpin.
So what is the difference?
Traditionally casters use 5/8" kingpins. The Albion 16 Series and the Albion 4 Series use a bigger, stronger, longer-lasting 3/4" kingpin. Our 3/4" kingpins will last 40% longer than the 5/8" variety and that's why we gave them a 3-year warranty to back it up.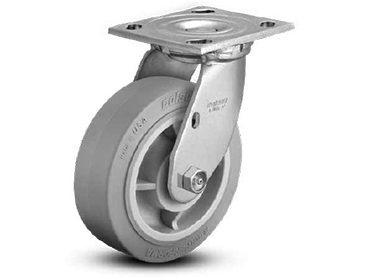 COLSON 4 SERIES
The Colson 4 Series features many wheel options, are USA-Made for highest quality and quickest delivery, attractive zinc-plated finish full double ball hardened raceways, 1/2" hollow axle with grease zerk and lock nut, plastic seal/retainer washer (roller bearing models) and many more features.