What is the kingpin of a caster?
The kingpin is the central rivet or bolt that locks together all of the critical swivel components of an assembled caster; majority of casters in today's marketplace are kingpin style casters due to cost and performance effectiveness. The kingpin travels through the top plate (or can be integrally forged into the top plate on heavier duty casters), the upper load bearing raceway, the yoke base, and the lower thrust bearing raceway and its retaining button. It is then properly staked (rivet) or torqued down (bolt) to allow for just the right amount of clearance for swivel performance and operational durability.
Why is the kingpin and its size important?
Given the construction of swivel casters and its critical role of locking together all swivel section components, the kingpin absorbs the brunt of the force transmitted through the caster as it swivels and handles the working load and any floor imperfections/debris. Over time, the kingpin can strain due to these factors and start to stretch or bend (especially if the kingpin rivet/torque was not appropriately performed when the caster was manufactured). This can lead to the deformation of the kingpin, which will result in loose raceways and even the loss of ball bearings–causing early swivel and caster failures.
So what is the difference between 5/8″ and 3/4″ kingpins?
Most casters in today's marketplace use 5/8" rivet kingpins on 2″ wide casters. Given that this is one of the most critical components to a casters life, Colson Group tested and upgraded its USA-made 2″ wide casters to a stronger 3/4″ kingpin. This upgrade to a 3/4″ kingpin on one of the industry's most popular casters proved to produce over 40% longer life in the rig (the caster assembly less the wheel) over leading 5/8″ kingpin internal and competitive alternatives. This additional durability provides longer life to industrial customers and is fully backed by our 3-year warranty on both our Albion 16 Series and Colson 4 Series series that now feature this 3/4″ kingpin.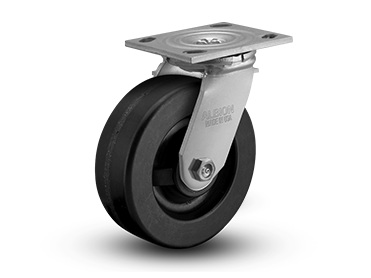 ALBION 16 SERIES
16 Series caster rigs are manufactured in the United States, for reliable fulfillment, versatility, and increased quality assurance. Featuring a 3/4″ kingpin, the Albion 16 Series is a trusted workhorse that can handle up to 1,250 lbs. per casters (depending on wheel selection) and features a leading 3-year warranty. Explore the 16 Series and its many USA-made wheel options now. Available in 4″-8″ wheel diameters, a host of brake/accessory options, and all common plate sizes.

LOOKING FOR EVEN MORE STRENGTH?
Upgrade to Kingpinless!
Kingpinless casters are designed without a kingpin, removing any failure potential of the kingpin altogether. Kingpinless rigs are precision machined and built for shock and impact, making them well-suited for applications where shock loading or impact cause failures in conventional kingpin casters. They can also provide ergonomic benefits that can unlock new efficiencies in your operations and ideal for power towed applications. Contact us for more information.