INTRODUCING:
10″ CG-MAX Wheels & Casters
________________________________________
Building on the ergonomic and durability success of the CG-MAX Max Efficiency Wheel®, we are excited to introduce a new addition to this family of products with the launch of the 10″ CG-MAX Wheel & Caster. This 10″ x 2″ wheel addition couples up with our workhorse 310 Series USA-made rig (modified for the 2″ wide wheel) to deliver a measurable ergonomic advantage your customers will appreciate.
The combined 10″ CG-MAX wheel + 310 rig delivers:
• Even greater ergonomics compared to 4″, 5″, 6″, and 8″x2″ offerings
• Standard extended swivel lead for improved towing performance and ergonomics
• Increased capacity rating of 2,000 lbs. per caster/wheel
• Larger precision machined raceway to eliminate chatter while being towed
• High quality heat-treated AISI 1045 laser-cut steel rig construction
• Kingpinless design to provide superior strength in rugged applications, all backed by our premium 3-year warranty
Below you will find helpful resources to learn more, review specifications, grab CAD models or datasheets, and even start promoting these additions online. These new additions are in the Price Lookup Tool, in-stock, and ready for you to start selling! Happy selling!
________________________________________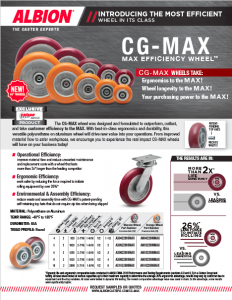 UPDATED LITERATURE Part Numbers & Specifications: View and
download the updated CG-MAX literature
to see the complete offering, including the new 10″ wheel and caster additions. The back page has also been updated to include additional extended lead CG-MAX casters to arm you with even more ergonomic solutions for your customers' needs. As noted, the new caster and wheel parts are now live in the Price Lookup Tool for easy quoting.
WEBSITE + CAD
CAD Models & Datasheets:  Native 10″ CG-MAX CAD caster models and 3D interactive datasheets are readily available for download online or on our Caster CAD 3D app. Simply change Wheel Type to AX (maroon) or AN (orange) and update the model preview to view and download CAD models/datasheets. You can also view all CG-MAX series links to CAD models here.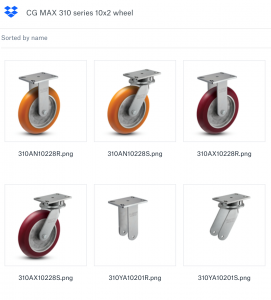 PROMOTIONAL ASSETS
For Ads or Ecommerce: This helpful folder of images will get you or your marketing department ready for promoting these new CG-MAX solutions. Simply click
HERE
to access the shared images and start preparing your promotional campaigns. To access all CG-MAX images (all other series and sizes) click
HERE
. Assets to be used only for CG-MAX promotional materials or Colson Group exclusive eCommerce categories.
https://albioncasters.com/wp-content/uploads/2018/09/albioncasterexperts-275x100.png
0
0
Mike
https://albioncasters.com/wp-content/uploads/2018/09/albioncasterexperts-275x100.png
Mike
2021-07-29 10:47:58
2021-07-30 11:08:19
Albion NEW Product: 10″ CG-MAX Wheels & Casters